Research & Restoration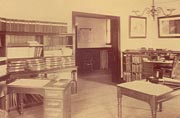 A research project on the historic scientific instruments at the Ladd Observatory began in September 2004. The goals are to restore and preserve these instruments, and to research the history of how they were used during the early years of the Observatory. The progress of this project will be documented on this web site.
The first major restoration is the Clemens Riefler astronomical clock. Philip Hannah, Certified Master Watchmaker, commenced work to return the clock to good working order. Information about this historic clock and the status of the restoration is available at the Clemens Riefler astronomical clock web page. Concurrently, Mr. Hannah is also restoring the Charles Frodsham chronometer.
The Parkinson & Frodsham transit instrument is in very good condition. The optics have recently been cleaned and the telescope was used to observe the lunar eclipse of Oct. 27, 2004. Some minor work remains to be done. It was originally "used by James Munroe in New Bedford in 1838 in the rating and adjusting of chronometers for the whaling fleet." (Prof. Charles Smiley, in a letter to Charles P. Barber of the Providence Journal dated July 3, 1940.)